| | | |
| --- | --- | --- |
| | | Principle instructor Tim Kiel has authored two very important specialty clinics available for private or public schools and organizations. Course descriptions are as follows: |
---
Women's Self Protection:
Who, why, when, and where are women's victims of assault?
| | |
| --- | --- |
| Explore the physical, mental, and psychological aspects of self defense with lecture, discussion, and actual Hands On Self Defense Training. This seminar will assist women in realizing their own potential in self protection. Participants will gain a new sense of confidence in their day-to-day activities and at home. This two-and-a-half hour seminar is positive, stimulating, and very applicable. Just as you would fasten a seat belt, strap on a helmet, check your smoke alarm, or snap on a life jacket, take one more step for safety...Personal Safety. | |
Note: Wear loose-fitting clothing and tennis shoes.
Instructor: Tim Kiel - Self Protection Specialist and Karate Master, 40+ yrs. experience

Be in Command!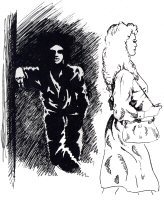 Be in Control!
---
"Think Safe":
Personal Safety for Children - Grades 2-5 (Targeted ages)
First Response Safety Skills for children are unique and essential. The objective of the class is to teach children in a none threatening, positive manner, to "Think Safe" and to know how to respond to their instinct of danger. With class participation we will stage probable situations of deception used to mislead children and how to simple it can be for them to take measures for safety once they know the plan. Children will interact and learn reasonable, proven, strategic tactics to resolve these scenarios. With the use of props, visual aids, and amusing skill games, children will enjoy and remember to "THINK SAFE". Parents are welcome to attend this one hour presentation.
Instructor: Tim Kiel - Self Protection Specialist and Karate Master, 40+ yrs. experience
For additional information on the self defense seminars offered by Central Minnesota Karate please feel free to contact us.